Handstand Foundations Class Online!
Thursday 19:00 (60 minutes)
Price: 12 Euros
FIRST CLASS IS FREE
USC welcome!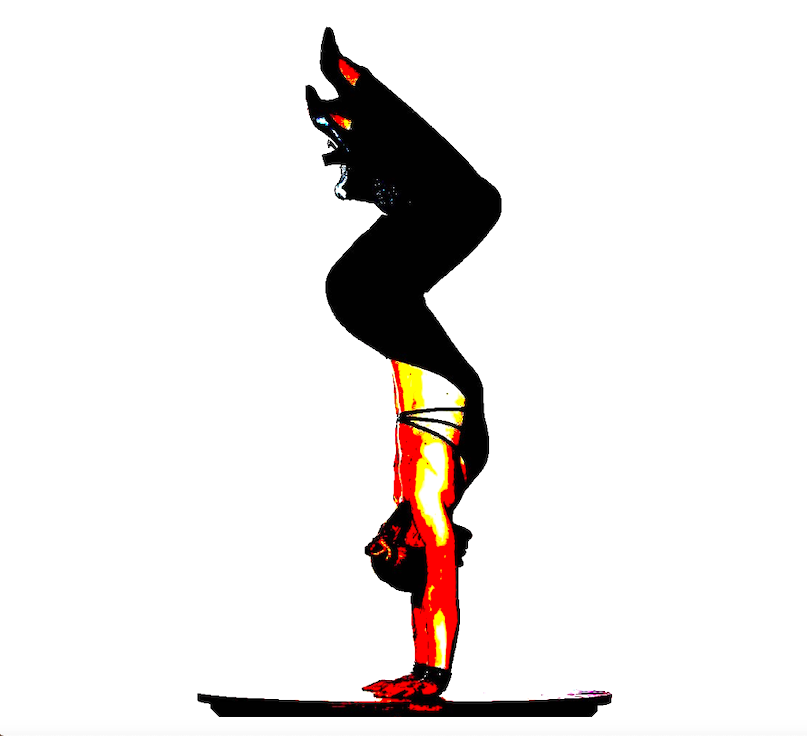 Balancing on your hands can be a dignified and accomplished experience. To practice handstands requires discipline and patience and can be like a physical meditation – but most of all it is FUN!
In this class we focus on preparatory exercises, strengthening, mobilisation and balancing exercises. We work toward the freestanding handstand and first shapes.
Once you have registered you will receive the Zoom Link.
Class Information
This is a foundation class that is suitable for handstand beginners.
Nevertheless it is required that you can hold a plank for minimum 30 seconds in order to join.
‼️ Please make sure that you have enough space for practice (minimum 3metres x 2 metres), and a free wall which we use for some of the exercises. Have a chair / sturdy box (or similar) ready. ‼️
Other useful props are
Yoga Mat
Yoga Blocks
Flexiband
but they are not mandatory.
➔➔➔ Please register, otherwise class may get canceled (if there are not enough bookings 24 hours before class time)
---
Quitting – A Creative Yoga Workshop

Thank you to everyone who joined!
Our lives are defined by change. We naturally navigate through new beginnings and endings, constantly in transition, continuously evolving.
In our modern world, our focus tends to be solely on the NEW, as we strive to move forward without any breaks. Standing still seems not only an impossibility, but a tabu. In an ever-accelerating reality we are expected to "go with the flow" while simultaneously staying true to ourselves. What a balancing act!
Every beginning follows an ending. In order to start something new, we usually should stop something else first. But how much attention do we give to the act of stopping, of "Quitting"?

This workshop is dedicated to celebrating the act of letting go. We will take a closer look at what it means to truly stop, to deconstruct in our search for essence, for truth.
We will create space to honour our "Quitting Stories" and experience the potential of becoming "undone".
Do you have thoughts about the subject that you want to share?
Email me.
---
HANDSTAND PRACTICE VIDEO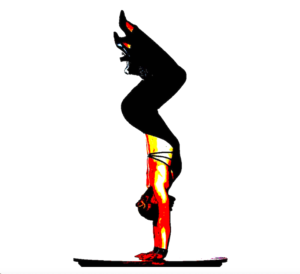 Learning a handstand takes daily practice.
Building strength and confidence, increasing mobility of your shoulders and improving your sense of balance takes patience and persistence.
This
45 minute Workout Class
is designed to help you stay motivated and keep up with your practice
with specific strengthening and conditioning, mobilisation and preparation exercises.
You do not need to be able to hold a handstand!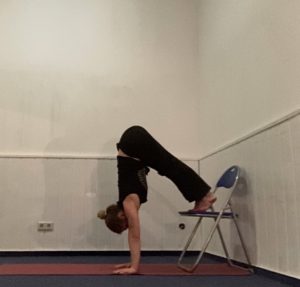 ---
remembering…
HANDSTAND & DHARMA YOGA
WITH ALPINE YOGA
JULY 13 & 14, 2019
I am pleased to return to beautiful Engadin, Switzerland this summer.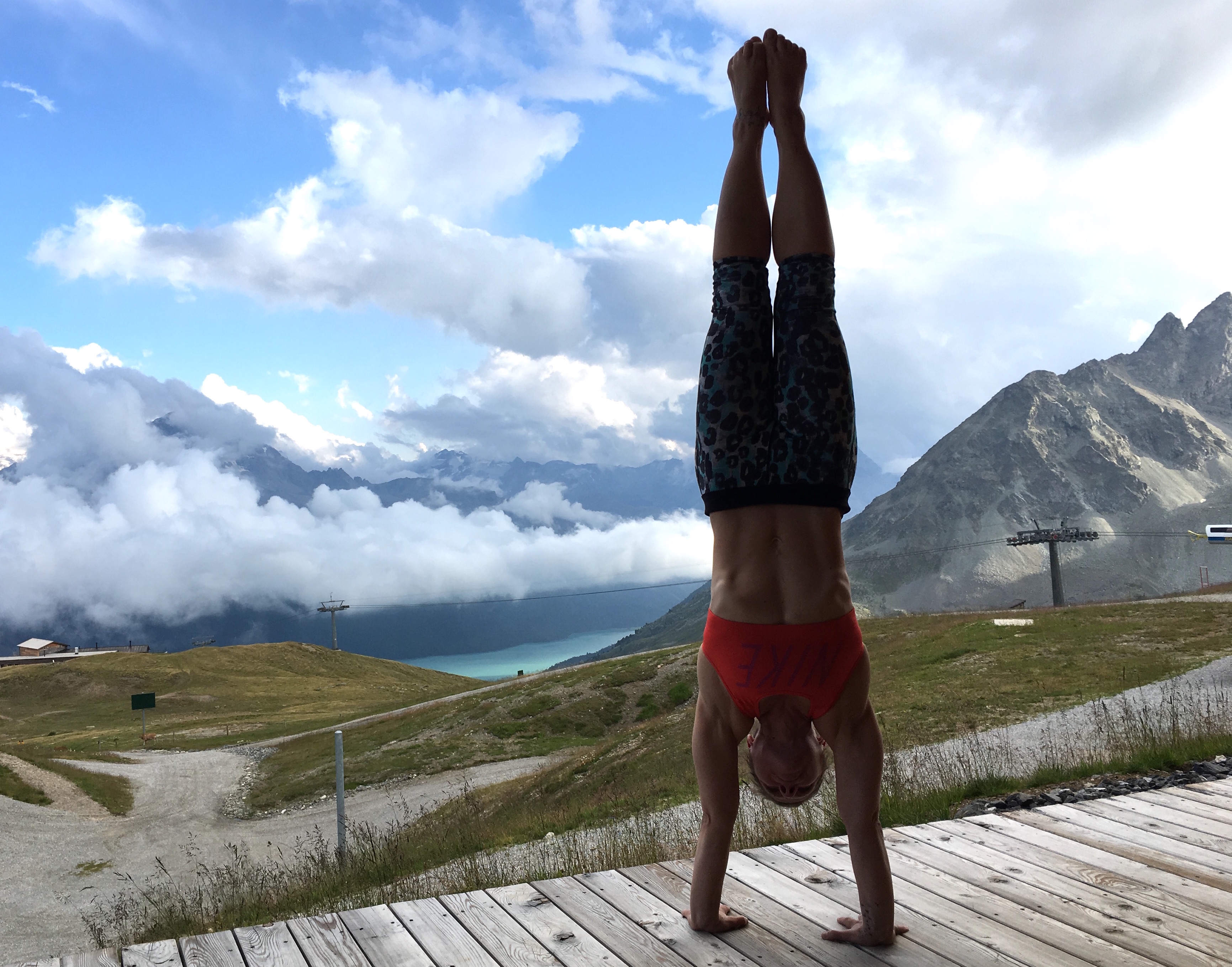 Practicing and mastering handstands and other inverted poses is empowering and elevating. Take control over the challenge of finding balance on your hands. Experience that perfect moment of oneness and calm. Create that lightness of arriving at the centre.
Playfully we will build strength and improve technique for being upside down. From kicking up to pressing up we practice handstand variations with the wall, with a partner and eventually standing free!
SATURDAY:
WORKSHOP 1
Inversions – Handstand and Forearmstand Basics
08.30 am to 11 am
With preparatory exercises we set the foundations for upside down balancing: building technique and increasing strength (in the right places). We increase our confidence by learning how to fall safely. We practice the kick up and start to hold and balance the body on our hands and forearms!
WORKSHOP 2
Dharma Yoga – Dynamic Practice
12.00 pm to 2.30 pm
This strong Hatha Vinyasa Yoga practice focuses on balance. By gracefully moving through variations of standing poses we build confidence and raise our energy levels. By integrating inverted poses and balances into the flow, we elevate our focus and thus become absorbed in the present moment – connecting with ourselves.
SUNDAY:
WORKSHOP 3
Handstand – Building the Practice (no beginners)
08.30 am to 11 am
We practice holding the handstand – we work with the wall, with a partner, and more and more standing free. We improve the Kick Up and work on the Press Up.
According to the students' level we introduce variations with backbends, like scorpion handstand or chinstand / cheststand.
WORKSHOP 4
Dharma Yoga – Devotional Praxis & backbends
12.00 pm to 2.30 pm
In this Complete Practice we join Asana, Pranayama and Deep Relaxation (Yoga Nidra) – allowing everything to come together.
In the Asana Practice we focus on backbending, while the charging breathing exercises (Pranayama) will prepare body and mind for a centering experience during a deep meditation.
WHEN: July 13th and 14th 2019
WHERE: Upper Engadin, details will follow
LANGUAGE: German, English on request
COSTS: Details will follow
REQUIREMENTS: Good general and upper body fitness is recommended. Classes can be adapted to beginners – except Workshop 3: NO BEGINNERS
REGISTRATION: email ursina@alpineyoga.com
"The greater danger is not that our aim is too high and we miss it, but that it is too low and we reach it." (Michelangelo)